092 – Geek Life – Deadly Class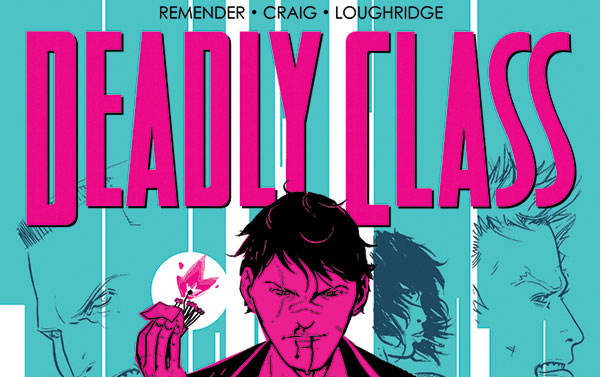 This week we begin something new and exciting! We'll be alternating between covering "pro" creator owned comics from companies like Image, IDW, DarkHourse and the like, and our normal jam of self published indie comics. This means that we'll have the exciting chance to chat about something you can just stroll into your local comic shop and pickup! Don't worry though, our heart is still with the self published folks out there and we'll never stop championing indie creators, we love you all!
Today we're talking about Deadly Class by Rick Remender, Wes Craig & Lee Loughridge available from Image Comics! Follow Marcus as he navigates the dangers of high school. Can he survive the gangs, the teachers, the homework… and what about that paper for Dismemberment 101? Did I mention that he attends King's Dominion High School for the Deadly Arts, a high school for assassins?! Yeah, so there's that. This comic is a gorgeous and wild ride through the crazy world of King's Dominion high. Can Marcus make it to graduation, or will he get stabbed in the back… literally. Just stroll down to your local comic shop and pickup the Deadly Class trade paperback containing the first 6 issues, it's a great read.

Geek Life is sponsored by Audible, you can grab your free book at AudibleTrial.com/GeekLife. Check out their insanely huge catalog of over 200,000 books on more subjects than you can imagine. This month JP recommends Skin Game by Jim Butcher. Butcher continues his best selling series The Dresden Files with the latest installment in modern day wizard Harry Dresden's epic story, Skin Game! To settle a debt, Harry must assist a group of A-list baddies in the ultimate bank heist. Skin Game is non stop fun and continues Butcher's series with solid writing, a great mystery and incredible characters. Visit AudibleTrial.com/GeekLife to enjoy a free book and 30% off the entire audible catalog for one whole month!
Music is provided by AirPlus Recordings+. This week's song is "October" by Greed, available on the new AirPlus Recordings album "Alone EP". If you like this song, be sure to support Greed and AirPlus Recordings!

Geek Life Podcast ep 92 - Deadly Class
[ 40:21 ]
Play Now
|
Play in Popup
|
Download
comments powered by

Disqus