082 – Geek Life – B-Squad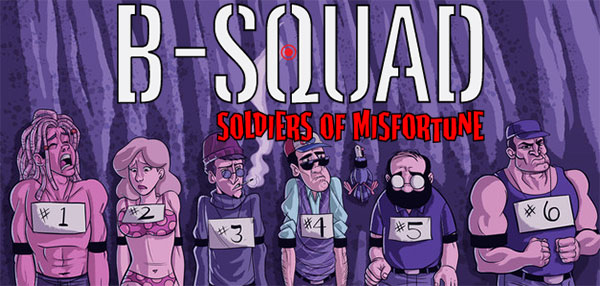 This week the gang spotlights B-Squad from Eben Burgoon (of Eben07 fame). B-Squad follows an A-Team like group of colorful & diverse folks who engage in missions of extreme danger that others would simply turn down. The really interesting part comes from the element of chance Eben has thrown into the mix. In each issue one of the squaddies will perish, chosen at random by the spin of an antique mariner's gambling token made of whalebone dubbed "The Pequod". Don't get too attached too the team in this hilarious comedy, because it's anyone's guess who's next on the chopping block (even Eben doesn't know!). Masterfully illustrated by Lauren Monardo, this book is so very worth your attention. Check out BSquadComic.com to read more and purchase yourself a copy! Be sure to follow Eben on Twitter @EraserNubs & like the B-Squad facebook page at facebook.com/BSquadComic.

Geek Life is sponsored by Audible, you can grab your free book at AudibleTrial.com/GeekLife. Check out their insanely huge catalog of over 100,000 books on more subjects than you can imagine. Follow the link above to enjoy a free book and 30% off their entire catalog for a whole month!
Music is provided by AirPlus Recordings+. This week's song is "Midnight Sun" by Armed Nation, available on the new AirPlus Recordings record "Winter Chills". If you like this song, be sure to support Armed Nation and AirPlus Recordings!

Geek Life Podcast ep 82 - B-Squad
[ 32:53 ]
Play Now
|
Play in Popup
|
Download
comments powered by

Disqus