067 – Geek Life – Behind The Table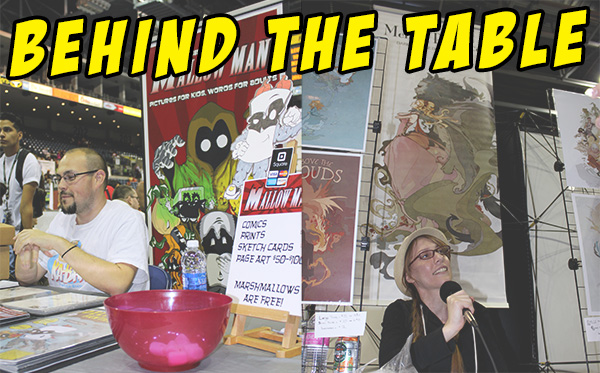 We talk about how to supercharge your exhibitor table strategy for your next convention or event! Having a successful table is a complicated thing, requiring skill in layout, good products, people skills, marketing and more! We share good practices for all you convention exhibitors out there! Special Guest Melissa Pagluica joins us to share her experience and wisdom and we couldn't be more excited!
Thanks Melissa, for stopping by and hanging with the gang! Check out our spotlight of Melissa's comic Above The Clouds on Geek Life episode 66! You can read Above The Clouds on AtCloudsComic.com, follow Melissa on Twitter @DarkSunRose, on tumblr at DarkSunRose.tumblr.com and check out her latest deviations at DarkSunRose.DeviantArt.com.

The Geek Life Podcast is sponsored by Audible! Remember, you can go to AudibleTrial.com/GeekLife to get a free audiobook download! We all use the service ourselves and just love it, seriously, we can't stop listening to audiobooks.
Special thanks to our Geek Life Brain Trust contributors for their great advice! This week Madeline Holly Rosing from BostonMetaphysicalSociety.com and Chris Hill from RaptureBurgers.com sent in some awesome suggestions on how to improve your table, thanks guys!
Music is provided by AirPlus Recordings+. This week's song is "Sunwave" by Nightt available on the new AirPlus Recordings record "Departures and Arrivals". If you like this song, be sure to support Nightt and AirPlus Recordings!

PM Podcast 067 - Geek Life - BehindThe Table
[ 46:08 ]
Play Now
|
Play in Popup
|
Download
comments powered by

Disqus