042 – Geek Life – Comics

This week we spotlight web-comic "Christopher" by Chris Williams. This gem is very diverse, from touching & cute all the way to hilarious, "Christopher" will resonate with you. We enjoyed the slice of life style and felt like we got to know Chris pretty well. The art is genuinely quality, with a crisp and expressive style. You can read "Christopher" at ChristopherComic.com. Be sure to like Chris's facebook page & follow him on Twitter @christopheeerrr.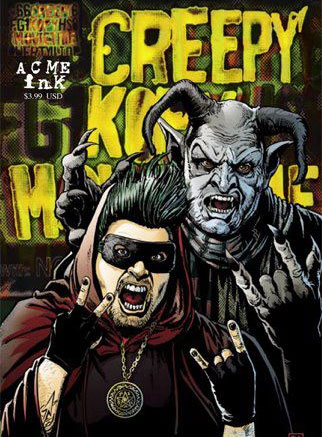 Next we review the crazy horror anthology "Creepy Kofy Movie Time Comic" Vol 1, Issue 1. This issue has 5 different short stories in the tradition of "Tales From The Crypt". But wait, there's more… Balrok and No Name from California Bay-Area's Kofy TV 20 introduce and wrap up the insanity! Balrok and No Name host the television show "Creepy Kofy Movie Time" every Saturday night @ 11pm, where they play old horror movies, have hot girls and generally goof around. These guys have been turned into sexy comic book versions of themselves and are an absolute blast, their intro and wrap-up is the cherry on top of this bloody ice-cream sundae of awesome. Check out their FB page for both the TV show and the comic!
Music is provided by AirPlus Recordings+. This week's song is "Digital Daybreak
" by RunC.T. from his record "Natural Static
". If you like this song, please support Run and AirPlus Recordings!

PM Podcast 042 - Geek Life - Comics
[ 41:55 ]
Play Now
|
Play in Popup
|
Download
comments powered by

Disqus