070 – Geek Life – Psycho Derby 2030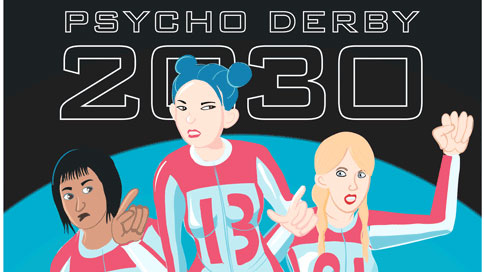 This week we spotlight Psycho Derby 2030 by Chip Buchanan. Chip's exciting vision for a future where the derby takes place at break-neck speeds on hovering mag-lev skates is ambitions and entertaining. Jump into the lives of the future derby girls, and see what it's like to survive in the brutal full contact sport of Psycho Derby! You can read and purchase Psycho Derby 2030 on WhamBamComics.com and check out Chip's portfolio at ContentGraphics.com. Be sure to follow Chip on twitter @whambamcomics & like his facebook page!
If you wanna check out the local (bay area) derby, check out the links below:
Check out Sonoma County Roller Derby:
http://www.sonomacountyrollerderby.com
Also around the Bay, there's the Bay Area Derby Girls, which is a busy league (San Francisco/Oakland/Richmond):
http://www.bayareaderbygirls.com
Silicon Valley Roller Girls:
For 1970s-style, banked track, co-ed derby you should check out the Bay Bombers. They've been around for decades and represent old-school derby. Sometimes you can catch their televised matches on Channel 20.
Music is provided by AirPlus Recordings+. This week's song is "Neon Future" by Armed Nation, available on the new AirPlus Recordings record "Departures and Arrivals". If you like this song, be sure to support Armed Nation and AirPlus Recordings!

PM Podcast 070 - Geek Life - Psycho Derby 2030
[ 41:27 ]
Play Now
|
Play in Popup
|
Download
comments powered by

Disqus