064 – Geek Life – Narwhal Knight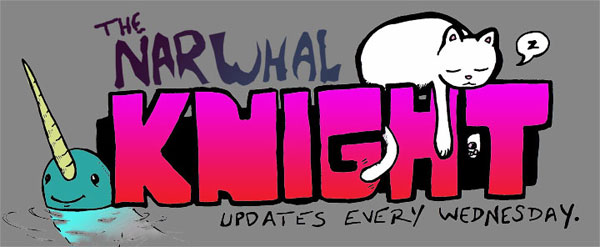 This week we spotlight one of PM's own, "The Narwhal Knight" by Brad Langer. Follow Jason Jones and his friends as they defend themselves from an army of evil, ankle-high vampires. Brad creates an endearing and immediately relatable cast of characters and thrusts them into increasingly hilarious danger. Narwhal is easily one of our favorite comics and we're so honored to host Brad's work on PandaManga.com. Make sure to read the Narwhal Knight on PM at NarwhalKnight.PandaManga.com, visit the Narwhal homepage at NarwhalKnight.com, follow Brad on Twitter @Narwhal_Knight and like his facebook page facebook.com/TheNarwhalKnight!

This week we recommend The Tempest by William Shakespeare. Joe listened to this classic and was so impressed with the cast and production that he highly recommends it. The Tempest is an excellent story and
a great place to start on Audible. Remember, you can go to AudibleTrial.com/GeekLife to get a free audiobook download!
Music is provided by AirPlus Recordings+. This week's song is "Tily Chao" by TigerPaw, from his record "I Heart Drum & Bass". If you like this song, be sure to support Tigerpaw and AirPlus Recordings!

PM Podcast 064 - Geek Life - The Narwhal Knight
[ 34:51 ]
Play Now
|
Play in Popup
|
Download
comments powered by

Disqus