056 – Geek Life – Comics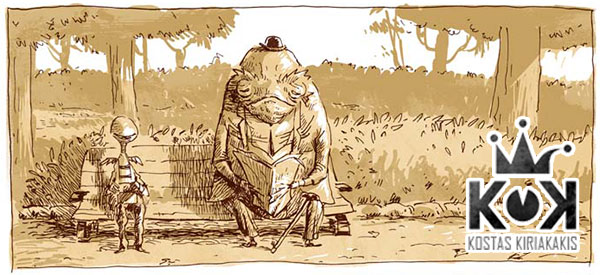 This week we spotlight the incredible and meaningful comics by Kostas Kiriakakis of Kiriakakis.net. These comics had a profound impact on several of us at Geek Life and we simply can't say enough good things about them, Kostas is a true talent. In short, go read these for yourself at Kiriakakis.net and be sure to follow him on twitter @KappaFanta.

Next we review "Poor Mick" by Kat Martin. Mick is a luckless sailor who always seems to be getting into trouble. After being tossed into the raging sea he finds himself on an island alone with a seemingly mute and rather rude girl. This is only the beginning of Mick's journey and we enjoyed every page. Done in grey-tone watercolor, Poor Mick is a beautiful comic with an interesting story that you simply don't want to miss. Read Poor Mick at PoorMick.smackjeeves.com and check out Kat's homepage with her impressive portfolio at KatMartin.net.
Music is provided by AirPlus Recordings+. This week's song is "Take Me" by Dekoi, available on the AirPlus Recording's record "Drum & Bass International 2013". If you like this song, be sure to support Dekoi and AirPlus Recordings!

PM Podcast 056 - Geek Life - Comics
[ 1:05:45 ]
Play Now
|
Play in Popup
|
Download
comments powered by

Disqus