051 – Geek Life – Comics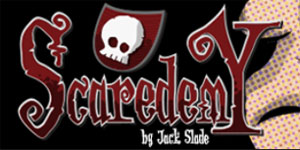 This week we spotlight Scaredemy by Jack Slade. Follow Simon Fairwee as he goes to the Scaredemy academy for wizards and monsters. Simon comes from a family of wizards and monsters, and hopes to one day become a powerful mage, but for now he'll settle for avoiding wedgies and that one girl who always follows him around. With some of the best art we've seen in a web-comic, as well as sharp and often unexpected humor, Jack Slade's Scaredemy is excellent. Be sure to read Scaredemy at Scaredemy.com, follow Jack on Twitter @Scaredemy, on Tumbler at Scaredemy.Tumblr.com and like his facebook page!

Next we review Marcus Clawson's Mallow Man. Who will defend Pantry City from various evil anthropomorphic foods? It's Mallow Man and his sidekick Bacon Boy! Follow the masked marshmallow as he fights evil and saves the day, all while being hilariously snarky and self aware. 4th wall? Who needs a stinking 4th wall? Marcus's great character design, striking inks and side splitting humor will make you an instant fan. You can purchase digital or print copies of Mallow Man from IndiePlanet.com! Be sure to like Mallow Man on facebook.
 Music is provided by AirPlus Recordings+. This week's song is "Breeze" by RBnG, available on the AirPlus Recording's record "Drum & Bass International 2013". If you like this song, be sure to support RBnG and AirPlus Recordings!

PM Podcast 051 - Geek Life - Comics
[ 1:07:07 ]
Play Now
|
Play in Popup
|
Download
comments powered by

Disqus