Geek Life Podcast ep 101 – Long John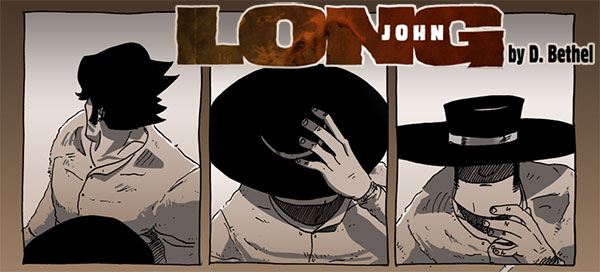 This week we spotlight the latest from D. Bethel of Eben07 fame. Lately he's been working on this amazing comic called Long John. Bethel knocks it outta the park with issue one of Long John. This issue should be used as a guide on how to make a first issue. It's got mystery, humor, character development and even some action sprinkled in for good measure, and here's the kicker, it all works great! You really get a feel for John and the town of Poverty Flat by the end of the issue and we've barely scratched the surface of this rich world. Long John Walker, the most deadly gunfighter in California, is having a bad day. On the edge of Mono Lake in the Eastern Sierra, John wakes up alone, bleeding and in nothing but his long johns. What happened to his gang "The Johns"? Where is his gear? And why is he practically naked?! We highly recommend you read Long John on LongJohnComic.com and find out!

Geek Life is sponsored by Audible, you can grab your free book at AudibleTrial.com/GeekLife. This week we recommend The Stand by Stephen King. Stand has tons of content and compelling characters. It'll absorb you completely in it's 40+ hours of entertainment. Also, check out Audible's insanely huge catalog of over 150,000 books on more subjects than you can imagine. Follow the link above to enjoy a free book and 30% off the entire Audible catalog for one whole month!

Listen to the latest episode of Geek Life
Music is provided by AirPlus Recordings+. This week's song is "Away" by Run C.T. available in 2015 on his album (RUN)THOLOGY. If you like this song, be sure to support Run C. T. & AirPlus Recordings!
comments powered by

Disqus