Geek Life Podcast ep 102 – Under The Flesh Issue 2
January 8, 2015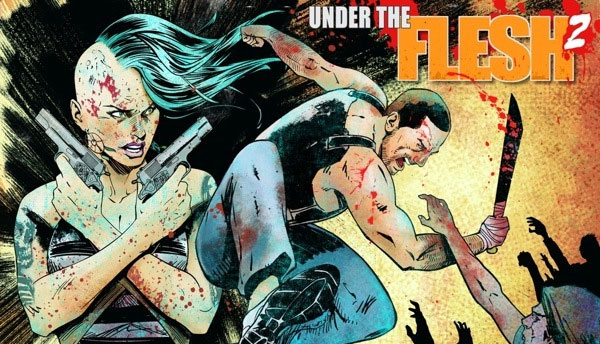 Geek Life is back baby! After our holiday hiatus we're back with a vengeance as we return to the violent and entertaining world of Under The Flesh by G. Deltres, illustrated and lettered by J. L. Giles. UTF issue 1 introduced us into the nanobot infused super soldier Ruben Lobos and his girlfriend Dinah along with a whole group of survivors huddled up in a college library. We pick up where we left off last time with Ruben chasing after Dinah as she runs off into the zombie infested apocalypse. With some great zombie action, cheesy lines and sexy ladies, this grindhouse comic is really picking up steam. Be sure to check out UTF issue 1 and part of issue 2 on their homepage UnderTheFlesh.com, follow them on Twitter @Under_TheFlesh and like their facebook page facebook.com/UnderTheFlesh.Comic!

Geek Life is sponsored by Audible, you can grab your free book at AudibleTrial.com/GeekLife. This week we recommend Steelheart by Brandon Sanderson. Sanderson crafts a crazy dystopian world run by an army of super-powered villains with no heroes in sight. What will humanity do to reclaim their world from these so-called "Epics"?! Listen and find out! However, if that's not your jam, check out Audible's insanely huge catalog of over 150,000 books on more subjects than you can imagine. Follow the link above to enjoy a free book and 30% off the entire Audible catalog for one whole month!

Listen to the latest episode of Geek Life
Music is provided by AirPlus Recordings+. This week's song is "Beyond Limits" by Run C.T. available in 2015 on his album (RUN)THOLOGY. If you like this song, be sure to support Run C. T. & AirPlus Recordings!
Posted in Updates |